Your Standard Terracotta Aluminium Chimney Rain Cowl
The Standard Terracotta Chimney Cowl is now our Top Selling Chimney Rain Cowl and if you simply wish to protect and prevent rain, birds squirrels etc entering your Chimney then I would recommend this Chimney Cowl without hesitation, they also look neat ontop of Chimney Pots as well...a great cost effective solution.

This Chimney Rain Cowl and ird Guard is easy to fit and will securely fasten to your Chimney Pot. We stock and supply our customers with the "Letter Box" style mesh which makes this Chimney Rain Cowl fit for All Purpose - Gas, Oil and Solid Fuel use. Not to be used with Smokeless Fuel!

The letterbox mesh complies with BSEN 1856 - 1:2009 and BS5871.
It is made from Galvanised Steel and powder coated in Terracotta or Buff colour.
It is suitable for gas, normal coal and fully seasoned wood but not smokeless fuel.
It fits pot sizes 150mm - 250mm internal diameter.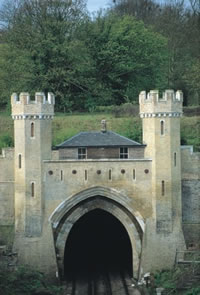 Clayton Tunnel Cottage Testimonial
We are always pleased to hear from customers and the locations of our Chimney Cowl Products.

I have recently had the privilege of chatting with the owner of Clayton Tunnel Cottage (pictured right) who purchased a Standard Terracotta Rain Cowl - Strap Fixing.

If you would like to forward your pictures please don't hesitate to send them direct to sales @ chimneycowlproducts.co.uk - as ever your feedback is always greatly received -

Kind regards

Paul
Standard Rain Cowl in Situ
Standard Terracotta Rain Cow fitted at Clayton Tunnel Cottage - The Rain Cowl looks great and is now seen by hundreds of people daily.